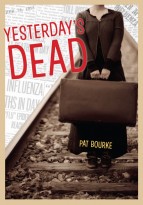 Positive reviews this spring have been very encouraging as Yesterday's Dead moves closer to publication on April 16, 2012:
"The strong sense of place and time and the vivid peril of the deadly disease keep the plot rushing believably forward. Meredith's very human fluctuations between despair and determination in the face of tragedy add considerably to the authenticity of her character. A gripping depiction of a tragic epidemic and the sometimes heroic responses of those affected." ~ Kirkus Reviews, April 2012.
"Bourke's novel comes alive, as one by the one, the adult servants buckle beneath the deadly, phlegm-filled disease, and it comes down to the children of the house to take on some overwhelming tasks: treat the adults, avoid contracting the flu themselves, and get along. This is a survival story located not on a snowy mountain but in a lavish house. Bourke ultimately brings home the vital message: in disease, all social classes are rendered equal." ~ Booklist Online, April 2012
Enjoy the book….I certainly did and benefited from the history lesson. I definitely enjoyed the interaction among the characters. This would make a great discussion in a classroom in terms of how today's youth would feel about the way the characters reacted to each other and how illnesses are treated differently today.   In fact, there would be many topics for interesting group discussions. 5/5 ~ Silver's Reviews, March 2012
Meredith is a likable character – young, intelligent, outspoken, caught in a negative situation, but not too rebellious. "She suits both the time period and the readers' expectations of her behavior. Pat Bourke makes real to younger readers the terror of being struck with an epidemic little understood by the public at the time. Yesterday's Dead comes out overall as a quick, highly informative historical read, perfect for its intended audience and for others of us as well." ~ Susie Bookworm, March 2012
Looking forward to holding a real, live copy!