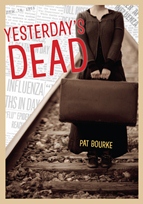 Yesterday's Dead, my novel for children ages 9 to 14, is published by Second Story Press. It's available in stores and through online booksellers now.
In 1918, thirteen-year-old Meredith Hollings travels from small town Port Stuart to Toronto, Ontario to work as kitchen help in a doctor's home. Although she needs this job to help support her family, Meredith hopes to return to school one day to train as a teacher. When Spanish Influenza invades the city, Meredith may have to give up that dream forever.
I'd love to hear your feedback on Yesterday's Dead. Please email me at pat@patbourke.com, or leave a comment on the Comments page.